GreaterScheme would ask visitors to first view both videos below to get a glimpse of the mindset of some British/English people from the not too distant past. While what was presented as televised 'humour' or 'comedy', the content will perhaps cause offence to some. It is important though to know that what is presented as a 'bit of a laugh' in the videos, for many people with 'foreign blood' that live and have lived within these shores, the every day living reality was far from comical. And this it is hoped, will give visitors a more clear understanding of the current ever present divisive measures and deeds being carried out in modern secular Britain/England. Please watch and be aware that the content is what might now be considered ' politically (in) correct ' . . .
As a backdrop to the over-all focus of this page
GreaterScheme hopes to with this page look closer at issues that may for some, cause them to feel discomfort - for want of a better phrase. This most certainly is not the intention. Visitors will be aware having browsed this site, material/data which gives evidence to alleged state/government criminality. There are also allegations levelled at the Church of England/Anglican Church and as Head of the Church - the monarch.
Clearly then, You should be very much aware of the huge divisions that have plagued 'MAN' and, sadly, they seem ever stronger in this twenty first century. For centuries people have committed the most barbaric and heinous crimes against one another. This has has taken place in many ways and with many 'justifications' . . . With that of course, the vast amount if not all of these crimes against humanity, will have had the support of tens of thousands of what might, under 'normal' circumstances be considered 'ordinary' men and women. Hopefully visitors will come to recognise some of the ways this manipulation and playing on the fears of Good people, continues and can be very damaging to all people. While people of genuine Good heart remain distracted with these matters, those behind the curtain driving the machine escape attention and . . . round and around and around 'we' go.
Using this page, focus will be given more to matters concentrating on the words and deeds of those people who, put themselves forward as representing the people ~ the Nation. To help full consideration of what will be presented here, below are some brief definitions which may be helpful in the greater scheme to give some context.
From the Collins English Dictionary ~
NATION ~ n. an aggregation of people or peoples of one or more cultures, races etc, organised into a single state.
KINGDOM ~ n. a territory, state, people, or community ruled or reigned over by a king or queen.
COUNTRY ~ n. a territory distinguished by its people, culture, geography etc.
Just came across the below video which will perhaps help some understand the make up of these British Isles. The 'crown' gets a brief mention also :P
BREAK TIME :)
Glad to see it's not an exclusive trait ma'am ;)
IT'S NOT JUST THE MUSLIMS
While it's quite evident that most if not all political parties talk absolute $hit, GreaterScheme wants to address the constant finger pointing at Muslims by the BNP & 'English Democrats' for their alleged cruelty to animals to produce 'Halal' Meat. There is no doubt both these groups are using this tactic to further demonise the Muslim for their own ends. GreaterScheme is champion of no faith or religion but wants people to simply recognise the manipulation taking place with this. Most ordinary people will agree that animal suffering is unacceptable and the production of 'Halal' Meat & 'Kosher' Meat will no doubt cause some degree of suffering.
However, as with Child abuse, 'the people' seemingly think it unacceptable for paedophilia to take place (rightly so), yet seem to find it less unacceptable for Children to go without in this Nation as a result of poor income and fraudulent austerity measures, which although not as vile as paedophilia, does cause Children to suffer. Similarly, the BNP & 'English Democrats' fail to draw the attention of their 'followers' to the practice carried out to produce 'Kosher' Meat and of course, the treatment of animals on British/English factory farms . . . Now why would that be ? Are the other two methods inconvenient truths ? Cruelty is cruelty - whether to Children or animals or any other living breathing creature. There are of course, varying definitions and 'One man's meat - is another man's poison' . . . But to castigate one guilty party over that of another guilty party, perhaps tells us more about those doing the castigating - would You agree with that ? I think there are some who might say . . .
NICK GRIFFIN AND STEVE UNCLES - LOOK IN YOUR OWN BACKYARD - Others might say - Nick Griffin & Steve Uncles, tell the full truth or S.T.F.U !
A PICTURE CAN SAY A THOUSAND WORDS ?
GreaterScheme has been looking at some of the ever increasing 'groups' popping up like daffodils recently. What is noticeable with some of them ~ BNP - English democrats - Liberty GB etc, is their incessant focus on 'Islamism'. GreaterScheme recognises the frustration, anger and hatred building up within these British Isles. There can be very little doubt that this discontent does indeed have substance. All political parties at some point place the blame for the dire state of the Nation on A.N.OTHER. The above mentioned while blaming the current government and Labour etc, they also continue to cause more discord amongst the people due to their continuous fear mongering regarding 'Islamism' . . .
ALL political parties will never discuss the 'legal fiction' as is mentioned on this site and covered by the excellent work of earthlinggb ~ http://earthlinggb.wordpress.com/ They will never discuss this matter along with the fiscal non-sense known as the economy. Of course, this is aside from the blatant blasphemy and apostasy now 'in Your face'. The below is a screen grab from the BNP website, having looked at their manifesto, comments were made and removed/refused. You must come to Your own conclusions why that was . . . GreaterScheme loves this Nation and it is so very very sad to witness its people being taken advantage of by ALL political parties, the people ever searching for 'the way out' of this increasing nightmare, evidently look to these new 'groups' for relief and escape.
Of course, until this 'legal fiction' rubbish is debated and dealt with and a true constitution set up by the people - with the people and for the people, the people will continue to be used and abused. Only when the people recognise just how this 'legal personhood' is the very cause of their ever downward spiral into endless debt and enslavement do they stand a chance in reversing the heavy damage being caused. The only 'solution' is for the people to walk away from the 'legal fiction' mask and demand their natural Creator given existence be fully recognised in law and, a new constitution set up to reflect that.
As is evident, those serving in the defence forces and police and civil services, have a duty of care to the people ~ the Nation ~ The technologies available now are very advanced yet the people are being forced to work longer, harder and for less and less reward. Unfortunately and sadly, the people will need to suffer self sacrifice in walking away from the 'legal fiction' non-sense, many people having paid the ultimate price in losing or taking their lives. Those who have failed decade after decade to establish a system worthy to be called civilised are responsible for those deaths. There are many Good people in the services who must clearly see the lawlessness of those in government and local authorities, they must defend the people and bring to a halt the destruction of this Great Nation and bring those responsible to justice.
Members of the judiciary are very much aware of the matters listed here and their actions enforcing clearly bad law is indefensible - unconstitutional and unforgivable. Many many people still have respect for the monarch, even as they know she has been reduced to nothing but a 'Citizen of Europe' . . . This absurdity alone should give cause for alarm bells to be ringing. The longer this system is allowed to continue, the more blood stained Your hands will become. Surely You cannot want that, there are now Children being put at risk due to these bad laws and subversion of the constitution, defend the sovereignty of the Nation which rightly belongs to the people ~ the people are the Nation for Goodness sake!
GreaterScheme will no longer aim to discuss these matters with any of these 'groups' any longer. It is clear their evasiveness and silence on the matters mentioned speaks great volumes as to their REAL AGENDA. It most certainly will not be of benefit to the people. See for Yourself their constant fear mongering - obfuscation and non-sense !
~ MY SOUL IS HUMBLED ~
As a final word on the viral 'blame the 'Jews'' scenario, GreaterScheme will add this somewhat comical explanation given by Gilad Atzmon, a 'Jewish' man living in Britain . . .Do have a listen and GreaterScheme does agree with his views concerning the Palestinian plight.
COME AND AV A GO IF U FINK UR ARD ENAFF . . . :P
Just put your X here folks LOL



TO BE OR NOT TO BE ~ A 'JEW' THAT IS THE QUESTION ?
Below another video from Dr David Duke, the video title explains the content. As GreaterScheme has mentioned before, there seems to be an awful lot of fingers being pointed at the 'Jews' lately. It is perhaps understandable that animosity exists between Christians and "Jews" due to the religious implications etc. That aside, they are now being heavily criticised by what seem to be certain 'right wing' elements - political and non. GreaterScheme has always held the Zionist ideology as not only contemptible, but also complete non-sense, due to their violent merciless land grab from the people of Palestine, Separating that incessant and repulsive activity from the religious ideology, is no doubt impossible . . . There are a great deal of articles and presenters that castigate the 'Jews' alleging their business like attitude to the huge loss of life in the concentration camps in Germany, data exists showing some anomalies regarding just what did take place in those camps and doubt has been cast over the alleged truthful accounts of those disgusting and disturbing times. Some of this data has been presented by people who actually claim to be 'Jewish' . . . There are also some 'white nationalist' groups claiming the 'Jews' are purposely breaking down the 'white race'.. . and on and on !
This video perhaps blows out the water the argument that the 'Jews' focus is on the decimation of 'whitey' per se . . . There's no need to concentrate on past events to the extent some have and do, suffice to say, the 'Western' world governments, have for over half a century turned their backs on the plight of the revolting lawlessness witnessed against the people of Palestine, who it must be said, consists of Christian and Muslim Arabs. GreaterScheme however, looks at these people as what they are . . . living breathing - flesh and blood beings, no different than any other . . . There will of course, exist amongst them, those who willingly ignore their conscience, just as there are amongst any other peoples . . Factually of course, out of the three dominant world religions, not a single one of them can claim to be innocent of bloodshed . . . 'Historically' speaking of course. I suppose the question for GreaterScheme is ~ why all of a sudden this explosion in contempt for the 'Jews' ? Are the 'Jews'/Zionists being set up as a 'scapegoat' . . a 'fall-guy' ? And the Third Temple aint even built yet . . . or is it :o Not forgetting of course, the British politicians seemingly 'unbreakable' courtship with the Zionist machine !
---
' What therefore God hath joined together, let not man put asunder '
Trust The Good Old BBC aye :) ~ always right at the heart of it :0
Ordinary people will no doubt hold to the view that people should be allowed to do as they wish in the comfort of their own space and within limits in public. Providing of course it falls within the Rule of Law. As has been witnessed recently, the first Gay marriage has been published to the world. As with the British - Muslim Gay issue below, there are some who insist on these types of marriage being allowed in religious premises. I believe the choice still belongs in the hands of the Church leaders as to whether this can be carried out in 'The House of GOD' or not.
That aside, there perhaps are far wider implications and, I draw the attention of interested parties to earthlinggb's blog. There can be found his various articles which cover perfectly the issues regarding these new found 'rights'. The BBC as ever of course, have had this on question time which can be viewed below. Earthlinggb's essential considerations here ~ https://earthlinggb.wordpress.com/tag/gay-marriage/
It is perhaps wise to consider that in the greater scheme, it isn't to do with whether same sex couples should or should not have the right to a legitimate binding ~ It is concerned with the 'legal gymnastics' surrounding this 'joinder' and the implications regarding the 'legal person' . . . Well argued earthlinggb :)
The matter of 'blessing' these marriages' in 'The House of 'GOD' is of course, a whole separate matter. There are allegations that these ceremonies are are purposely driven with the sinister purpose of destroying the Christian family unit. Of course, should this be the case, these new 'rights' particularly if allowed to take place in 'The House of 'GOD', would go some way in bringing that purpose into fruition . . . Perhaps ?
' What therefore God hath joined together, let not man put asunder '
MUST BE RIGHT ~ IT WAS ON THE NEWS . . . RIGHT :P
lol read the comments on you-tube :)
60 Pence left . . . and worried . . . :0
'success' ? by whose standards ?
It's not that the many many issues are less important, but perhaps the fact that they are largely contrived and schemed that way. The main purpose of this is to cause distraction and division . . . Religion is perhaps the biggest 'tool' in the box ?
BRITISH - GAY & MUSLIM ~ A DILEMMA ?
Two videos drawing attention to issues highly controversial in some circles. GreaterScheme is aware of the many debates being held on the BBC. And it is right that they should, however, as important as these issues are, what might be considered essential issues are seemingly given no attention. Of course, to debate such issues that GreaterScheme believes are fundamental and in effect, hold huge influence over the lives of all people, could potentially shatter the beliefs - culture and traditions of many people. The debates have covered a number of issues right across the board involving, being Gay, being Muslim and Gay, being Christian and Gay, etc etc . . . And as expected, they draw the attention of people away from that which deprives them of self determination with impunity . . .
The video on the left gives focus on being Gay and being Muslim. The point is made that it revolves around the personal interpretation of texts in the Koran. A Gay man in the audience claims that he is a Muslim, this is contested by a Muslim Lady in the audience. She makes quite correctly, the claim that according to the texts in the Koran and the Bible that the acts carried out by homosexuals is forbidden. If the texts are the true word of 'GOD', then perhaps for Gay people, the Islamic Faith or indeed the Christian Faith, is not the path for them. Touched on briefly in the video, is the acceptance of others within the chosen Faith of Gay people. The matters GreaterScheme considers essential, will not be debated because those issues cut right through all the other issues like a 'knife through butter'. The video on the right deals with a man on the street accepting Islam. Fascinating watching the public hotly debate these issues, while never for one second openly expressing any concerns regarding the issues that really do control their very existence.
WOULD THE REAL 'CHOSEN ONES' PLEASE STAND UP ? ? ?
More from David Duke on the mysterious 'chosen ones' . . . Interesting views.
Dr Duke writes ~
When I was first began to understand the ultra-racist, supremacist ideology of Judaism and Zionism, I came into contact with the theory that present-day Jews are genetically unrelated to the historical Jewish community.

The allegation, known as the ""Khazar theory", claims that the Ashkenazim Jews of today are actually the descendants of the Khazar people, a Central Asiatic tribe who allegedly converted to Judaism in the 9th Century AD. It is claimed that these newly-minted Jews then migrated into what is now Russia, Eastern Europe and later Western and Northern Europe.
Interestingly enough, the Khazar theory was launched, and is still to this day, driven primarily by Communist Jews. It is ironic that the three most prominent exponents of the theory that "the Jews are not a race" all have almost exaggerated caricatures of features people ascribe as Jewish. Above, left to right: Zionist extremist and Communist Party member Arthur Koestler (author of the "The Thirteenth Tribe"); Jewish geneticist Eran Elhaik; and Shlomo Sand, an Israeli academic and former member of the Union of Israeli Communist Youth (Banki). All three maintain that large numbers of present-day Jews are completely genetically unrelated to the Middle Eastern-origin Jews who wrote the Babylonian Talmud.
see about this here ~ http://davidduke.com/rethinking-khazar-theory/
And then there's the 'Black Jews'
And God said,

Let us make man in our image, after our likeness: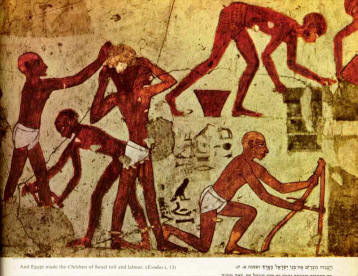 "And the Egyptians made the children of Israel to serve with. rigor:
And they made their lives bitter with hard bondage, in mortar, and in
brick, and in all manner of service in the fields/"
Exodus 1:13-14.

Dr. Beno Rothenberg, director of the Institute of
Archaeo-Metallurgy, University College London, has written books
including An Archeaological PassoverHaggadah.
In an attempt to prove that the Hebrews were enslaved and traveled to
Israel as the Bible says, Dr. Rothenberg offers numerous pieces of
evidence, such as this wall painting from the tomb of Rekmire 15th
Century B.C.E. that purports to show Semitic people at work. Though it
was not his intention, the evidence that he and other scholars present
make a compelling case for the existence of a Hebrew presence in Egypt,
it also makes a strong prima facie case in favor of the proposition that
these Israelites in Africa were also black people.
Don't You just love it when things fall right into place :)
see here ~ http://www.blackjews.org/
There's an awful lot of hatred out there . . . Likely being fuelled by A.N.OTHER. Please don't get sucked into these ever increasing circles of non-sense. You are what You are, a living breathing flesh and blood creation. All blessed with conscience and the free-will to choose Good over bad. You most certainly do not need to be told that by anyone ~ That is to say ~ You know what is right and You know what is wrong. No matter what 'system' is used to form a community, the Rule of Law based on common terms with a basic minimum set of common values agreed upon by all, is essential.
WHY ?
Because even within the most 'civilised' of people, there exist those who willingly choose to ignore their conscience whether for gain or not. And all within that community/system must be held accountable to The Rule of Law. By far the majority of criminal activity involves gain, usually financial. Establish a currency based on the true value of people and, allow 'MAN' to utilise the Creator given land for basic needs - shelter - food - water etc as a basic fundamental right within The Rule of Law and go from there.
Put the Youth now unemployed to work building homes for themselves, build upon the technology now in existence to self generate electricity to those self built homes and, perhaps the Youth will take pride in their achievement and reward their community accordingly to the true benefit of all.
Wishful thinking ? ? ?
Thanks BoB :)
UK PATRIOT WANTS AN EXPLANATION
Just been catching up with what is happening with Albert Burgess and his 'case for treason'. Mr Burgess now heads a group named the 'English Constitution Group' (ECG). There's a message board on his new site from which the above screen grab image has been made. The post in the image above as You can see, refers to an incident where a 'PERSON' approached the queen's residence and spoke with constables on duty there. I'm not too informed on the matter but, the 'UK Patriot ' above says it all really. Of course, being on an 'English' founded website, perhaps gives 'justification' to the description used for the 'offender'. . (A man of West Indian/African appearance) ~ I suspect this posting was made by an adult.
Thank 'GOD' he wasn't wearing a hijab . . .
As far as the 'case for treason' goes, it appears that the very same police service that the constables' he believes are not fit and proper people to protect our beloved Sovereign Lady Queen Elizabeth II . . are ignoring the treason charges presented. Visitors can view the message board and website following the link below.
http://www.englishconstitutiongroup.org/comments.html#.U1e8mXrbeeA
This patriot however, would like to know when 'English' people will actually snap out of the coma like state they appear to be in and, start asking the right questions.
All the British people line up on the left . . . All the English people line up on the right . . . All other people ~ STAY WHERE YOU ARE . . . . Are the custard pies ready ma'am ?
'One' doesn't use custard . . . :p
GreaterScheme hopes there is no need to 'pick apart' the non-sense in the image above . . . It is perhaps worth borrowing the following from Arthur and Fiona Cristian, which sums it up very well :)
We are all at the effect of each other, nothing else is going on. Those who know the truth about this deviously go about manipulating their brothers/sisters so they can continue setting themselves up as the authority with power and control over the rest of us. To us, it's all man-made bullshit.
Can't argue with that lol . . . see ~
http://loveforlife.com.au/content/14/04/17/how-psyop-program-intel-networks-are-messing-your-head-his-storyher-story-arthur-fi
'This was sent to the MET today. May I suggest that more people send it and bury the MET in letters' UK patriot writes, but won't doing that distract them from the all important 'case for treason' ?
I rest my case . . . :0
AHHH FOUND THIS ~
' Buckingham Palace declined to comment.' . . . LOL
http://www.mirror.co.uk/news/uk-news/queens-guard-points-rifle-member-3380699
http://www.dailymail.co.uk/news/article-2598044/Security-fears-Buckingham-Palace-Queens-Guard-pulls-rifle-intruder-ranted-police-marching-gates.html
Talk about strange clothing :) (nice hat btw lol)
What chance has Kevin Annett got . . . :o
WELCOME TO THE TWENTY FIRST CENTURY MR UNCLES
Take what You will from the image and words above, suffice to say, Mr Uncles perhaps needs to define precisely his definitions. And refine those definitions clearly to the voters he will rely on to get him where he wants to be. Just where that is of course, needs defining . . . :)

GreaterScheme doesn't feel the need to engage in what is considered right or wrong with regard to what people choose to do or how they choose to dress. That is certainly no issue here. Mr Uncles on the other hand, wants to focus his attention on women who choose to wear clothing in respect of the Faith they have chosen to follow. How odd it is that there is a huge out-cry because it is alleged that 'Jews' are being required to register with authorities in the troubled Ukraine, here in the UK Mr Uncles and his like want to castigate Muslim women because they willingly wear their Faith and culture on their sleeve ~ as it were . . . Just an observation. . . . Of course, the all important word being choice. No one should be forced to do anything against their will. There are of course exceptions to this, paedophiles being prevented from working with vulnerable people for example.

Is there much difference between what is being forced upon the 'Jews' in Ukraine than being held to ransom by the state in this Nation ? Ransom ? Yes indeed . . . It is called taxation . . . It is called land theft . . . And, it is called being registered at birth. If Your parents or guardian refuse to register You as a child, they will suffer penalty - What label would You give that ? . . .

Anyway . . this is about Mr Uncles and his choosing to castigate Muslim women here in this Nation, making the claim that it is offensive and strange. But this is just an opinion . . a view right ? Yes, that's correct, and everyone should have the opportunity to give theirs. Mr Uncles of course, as a candidate for membership into the European Parliament, will attract a substantial following and this can lead to discord and possibly even violence toward those castigated. As visitors will be aware and as GreaterScheme has been saying for some time, there is a need for debate. And this debate needs to cover all aspects of civilian life in this Nation. From the constitution to the position of monarch, from access to law to the impartiality of the judiciary, from the right of people's self determination to the corporate structure and political funding etc etc . . . The every day quality and standards of living for all people in this Nation, will never change until the elements above and more are debated fully within the public realm . . with the people not for the people.

I would suggest Mr Uncles is yet another change agent and should he, like Nick Griffin or any other political party/leader form a government, they will do as they always have done. They will all swear allegiance to the monarch, of whom it must be said . . . Has abandoned her solemn oath before God and breached her coronation oath. Will Mr Uncles confront these matters ? Will Mr Griffin confront these matters ? Will Mr Farage confront these matters ? YOU ALREADY KNOW THE ANSWER DON'T YOU ? ? ? Meanwhile ~ our own people are losing their lives . . . Of course people feel proud of their Nation and most will give thanks to the Creator for that, people certainly don't need to join a club or a party to feel that or know that .

. . Ordinary people, should they step back and look at what issues are causing them so very much misery, so very much heartache, so very much hardship and hunger. Will not see the cause of those issues at the feet of a Muslim Lady, they will not find the cause of those issues at the feet of 'Jew'. They will not find the cause of those issues at the feet of some unfortunate less abled person, no gay nor black nor white . . . They will find the cause of those issues at the feet of those in parliament and authority. The very same club Mr Uncles, Mr Griffin, Mr Farage etc etc, will do almost anything to get membership of. When the executive, the judiciary, the monarch all willingly allow policies that cause all the above issues and problems, the LEAST of them is whether someone is gay, or Muslim or 'Jew', or whether they label themselves English or British . . .

The most important thing 'English' people need be concerned about, is why on this Earth their 'English' Queen continues to remain silent while HER GOVT. AGENTS are running roughshod over the Rule of Law and enforcing policies that are killing English and British people! For Goodness sake, can't You see this ? The things these people are doing, are of the most offensive to your Maker and You really need to step right back away from them and the murderous system they thrive on ! ! ! Right Mr Uncles ?
Recognise my friends, how very easy it is to demonise huge swathes of innocent people simply living their lives as they so CHOOSE. Choice it would seem in Mr Uncles world, is for 'chosen ones'. Is Mr Uncles giving the British/English people false hope ? Perhaps GreaterScheme should tackle Mr Uncles on the more essential elements keeping all Good people of this Nation on their knees . . . What say Ye ?
If this Beautiful Nation is to provide its many Good people with the quality of life that IS AFFORDABLE. Then only when the essential elements highlighted through-out this site are dealt with properly and by trusted people in the local communities, can this take place. For far too long British/English people have been divided and set one against the other. The Earth has been created to the benefit of all peoples, please consider this and stand up and speak out for that which is truly yours. That which has been kidnapped and stolen, taken by those tiny few in the greater scheme, those now the cause of immense suffering, immense misery and perpetual aggression both national and international. There's a saying that describes people who continue to repeat the same mistakes over and again. Don't let that be You.
There'll Always be an England (la-la-laaa) ~ But what about the English ?
Thinking in Twenty First Century 'Bringland' (just made that up although perhaps Takeland is more descriptive) :p
New Kid on the Block ?
The 'English Democrats' ~ Part of GreaterScheme's examination of the divisive measures the British/English people are now subject to.
And God said,

Let us make man in our image, after our likeness:
That is to say ~ "WE" ?
I USED TO BE ENGLISH ~ BUT I'M ALL WHITE NOW
BOOM ~ BOOM :) picture in the making lol
Oh the IRONY~
You mean One has the CHOICE of choosing which Faith One can follow Mr Uncles and dress according to that CHOICE ?
http://dictionary.reference.com/browse/choice
" It is a simple choice " ~ in - deed it is !
And God said,
Let us make man in our image, after our likeness:
From our 'trusted' BBC website ~
St George - The Man The Myth
Introduction

Saint George's Day is 23 April.
Saint George
An armoured Saint George on a rearing white horse, using his lance to impale a small, gryphon-like dragon. A princess wearing a crown is faintly visible in the background Saint George, by Gustave Moreau ©

Saint George is the patron saint of England. He's popularly identified with England and English ideals of honour, bravery and gallantry - but actually he wasn't English at all. Very little, if anything, is known about the real Saint George. Pope Gelasius said that George is one of the saints "whose names are rightly reverenced among us, but whose actions are known only to God."
Facts in brief

Everything about Saint George is dubious, so the information below should be taken as mythical rather than real.

Born in Cappadocia, an area which is now in Turkey
Lived in 3rd century AD
His parents were Christian
Later lived in Palestine
Became a Roman soldier
Protested against Rome's persecution of Christians
Imprisoned and tortured, but stayed true to his faith
Beheaded at Lydda in Palestine
23rd April was named as Saint George's day in 1222
He is patron saint not only of England but also of Aragon, Catalonia, Georgia, Lithuania, Palestine, Portugal, Germany and Greece; and of Moscow, Istanbul, Genoa and Venice (second to Saint Mark). He's also patron saint of soldiers, archers, cavalry and chivalry, farmers and field workers, riders and saddlers, and he helps those suffering from leprosy, plague and syphilis. In recent years he has been adopted as patron saint of Scouts.

Some people have campaigned for Saint Alban to be the patron saint of England instead of George.
see here for more ~ http://www.bbc.co.uk/religion/religions/christianity/saints/george_1.shtml